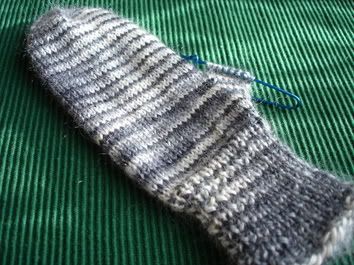 This is the beginning (and end) of the mittens I mentioned I was making for myself. I decided to use some of the
Brooks Farm
yarn I bought recently and the pattern guide for basic mittens from Ann Budd's
The Knitter's Handy Book of Patterns
. I realized something though--I have never owned a pair of mittens. Afterall, there's not a huge need for them in this part of Texas. I usually just wear a pair of store bought gloves if the weather gets cold enough. Because of this I really have no idea how mittens are supposed to fit, but I'm pretty sure they should fit loose enough to have some wiggle room for your fingers and this one does not. Too tight. And though I love the yarn, I now know I would rather have a pair of mittens from worsted weight yarn, not the fine guage this is. This yarn is too nice to use for something I'm not thrilled with. So, live and learn and rip out and start over.
However, this pair of mittens turned out just as I hoped they would.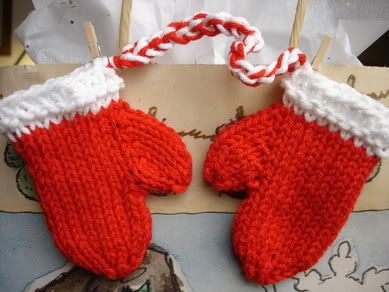 I found this
pattern
yesterday on
Diana's blog
. They way I understand it, she took the pattern for
Holiday Mitten Ornament
from Frugal Knitting Haus and clearly rewrote the instructions. Also, it looks to me like she modified it to be knit with dpns, which I love. Her instruction page includes little boxes for checking off rows completed. Good idea! Since I knitted two mittens, I checked the boxes for the first one and erased them for the second one. A convenient way to keep track of your place. These mittens are about the size of a regular business card, not including the thumb. I'm using them to dress up a Christmas gift and later they can be hung on the Christmas tree. They were fun and quick to knit, only about two hours for both. For yarn I used Lion Brand Cotton-Ease. I think Diana used left over Cascade 220. It doesn't take much so use what you have.
P.S. When it came to finishing, I just ran the yarn through the remaining stitches instead of using the kitchener stitch. I also crocheted a chain and attached it to the edge of each mitten.