Even though the sky was overcast on Saturday, John and I drove to Matagorda Beach so I could take pictures of the fishtail scarf and he could hopefully come home with a fish tale of his own.
Pattern:
Lorrie's Fishtail Lace Scarf
Yarn:
My own
homespun
Needles:
US 7
Finished size:
5.5" wide, 58" long (after blocking)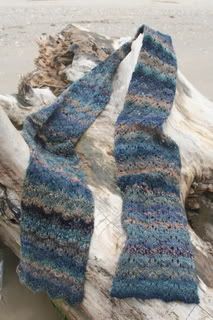 Modifications:
I used larger needles and worked the lace pattern on fewer stitches (33).
Thanks to everyone for helping me choose this pattern. It was perfect for showing off the shifts of color in my homespun and it was so much fun to knit. There is something very satisfying about knitting with yarn you have spun yourself. Even poorly spun yarn can magically transform an ordinary knitted item into something special. So if you've been wanting to learn to spin, but have been putting it off because you don't think you have time, you're missing out. Why wait any longer?
At the end of the day, I had my pictures and John had
his fish tale
.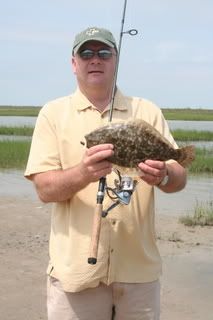 Flounder for supper!