Casting the right actor in the right role is key to the success of a movie or a play. It's the same in knitting. The choices we make in combining yarn and pattern can make a big difference in the outcome of our project, so I'm holding auditions for my latest homespun. Competing for the role of lacy scarf are two worthy patterns:
Lorrie's Fishtail Lace Scarf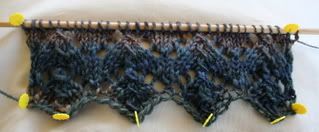 and
Branching Out
Hmmm...this is a harder decision than I thought it would be. I'm in love with the leaf motif of Branching Out, but is the yarn competing too much with the design?
I like how nicely Fishtail shows off the gradual changes in the yarn color, but will this scarf roll on the edges?
Let's see them perform side by side.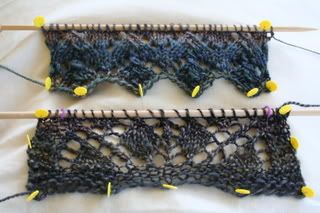 What do you think? I'll let you know what I decide on Monday. I need to think about it some more.