Since we've been back from our trip to Matagorda, a few people have asked me what I did to keep busy while John was fishing. Obviously these people don't know me very well or they would know that I knit, of course, but I also did a bit more than that.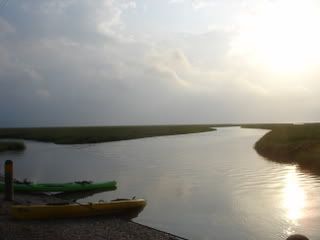 I tried kayaking for the first time (and maybe the last). I was really expecting to enjoy it more than I did, but I think the kayak I was using was not the one for me. I had to fight it most of the time. Some of that was due to inexperience on my part and the fact that we started out against the wind and the current. I learned some things though. It's no fun to sit in water for two hours, so make sure your boat has plugs. Also, it's not that easy to take photos from a kayak. And, don't even think about knitting in one.
So, I saved my knitting time for when I was on dry land. I was able to finish my summer socks.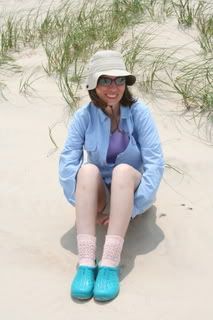 Stitch Pattern:
Summer Dream Socks
, 64 stitches, Short row heels and toes
Yarn:
2 balls of Panda Wool 46% Bamboo, 43% Wool, 11% Nylon
Color:
2301 Rosewater
Needles:
US 1 DPNs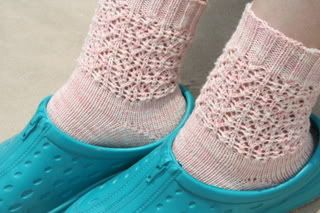 The rest of the time, I kept busy walking the beach, collecting shells and taking pictures. It was the perfect vacation. I know, because I came home feeling rested instead of tired.
A few of my favorite photos:
The brown pelicans were very entertaining. We could watch them fish from our trailer. Here they are sunning themselves on a sandbar.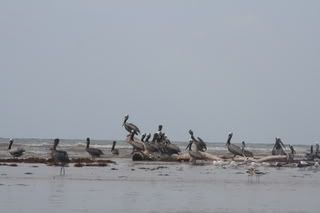 Driftwood is plentiful and it's not uncommon to see whole trees washed up on shore.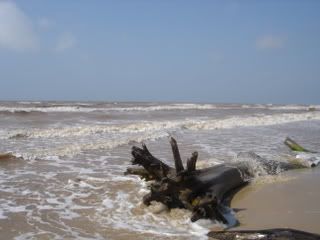 I had the beach to myself most of the time. There were thousands of shells (I'm not exaggerating) to comb through. I collected a shoe box full. My favorites were the sundial shells and the whelks. You can see a sampling in my previous post. I walked this first mile section of beach every day we were there and never got tired of it.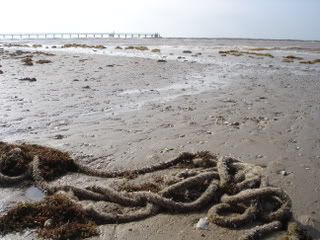 I was the official fishing photographer. Here's John on the very long jetty pier. No bites this time.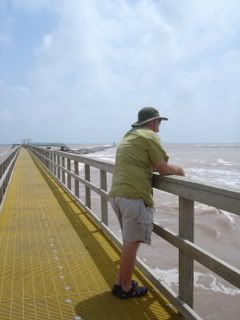 Sunset on our last evening.
That's enough of Matagorda for now...at least until our next trip.