It's a good thing I enjoy flying, because yesterday we were on two separate flights. I never get tired of the view.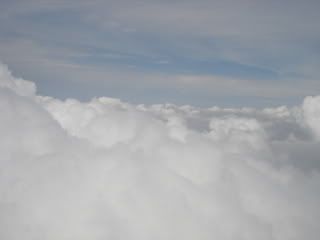 All this air travel has been good for the socks. They are progressing nicely.
On the flight to Houston: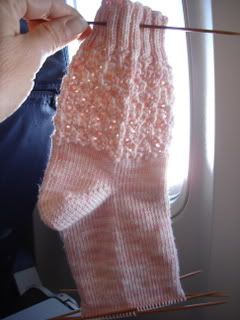 Almost to the toe.
On the flight to Tulsa:
One finished and one started.
Travel advice for knitters: Do not attempt the kitchener stitch in a busy airport terminal, no matter how tempting. I made a mess of my sock and had to spend the next flight fixing it.
I think I forgot to mention that this trip is a tag-along business trip. John is in a meeting today and I have the car. Our flight for home leaves later this afternoon, so I don't have much time to explore. I could probably find a yarn shop or two, but I doubt by suitcase could hold anymore wool.
There will be lots to do when I get home. There always is after a trip. One of the first things I want to do is start a square for an afghan
Laura
is organizing. It will be for a family (or families) in Greensburg, Kansas. If you would like to help, you can find the specifics
here
.

Some of you may be interested to know that the person that started the fire that destroyed our town's high school, turned himself in this week. He is a sophomore at the school. I do not know him or his family. Right now it isn't clear why he did it.
See you next week.