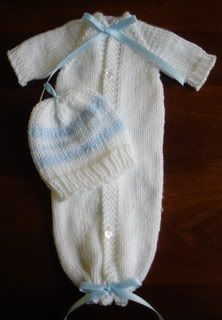 Pattern:
Sleeper Sack
Yarn:
Plymouth Yarn Dreambaby D.K.
Needles:
US 3
Size:
Less than 1 lb. (chest circumference: 8", length: 11")
There's been a whole lot of knitting going on at my house! Participating in
KUO
has given me the motivation I need to get together a nice donation for
The Preemie Project
. For me, knitting bereavement clothing it is the most important charity work I do. This gown has become my favorite to knit. It's simple, no frills look makes it perfect for a boy. I only wish you could see it in person, because the picture doesn't do it justice. The Dreambaby yarn is incredibly soft and perfect for this pattern. I still have enough to make another set like this in blue and there are still a few days left of KUO, so why stop now?