The cardigan was finished just in time for our trip to Florida, so in the suitcase it went to be photographed on our travels.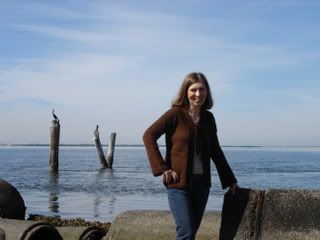 John didn't mind pulling off the highway for a photo shoot on Tampa Bay. It's not hard to convince a fisherman to stop by the water.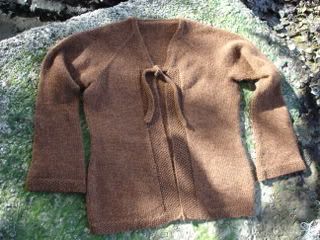 Pattern:
Knitting Pure & Simple Neckdown V Neck Shaped Cardigan #241
Yarn:
Berroco Ultra Alpaca (50% Alpaca, 50% Wool) Color 6279
Needles:
24" circular US 6 and 4; 16" circular US 6; US 6 double points
Started:
October 19, 2006
Finished:
November 10, 2006
This is the third sweater I've made since I began knitting. The first two were knitted before I began blogging, so I have never shown pictures of those. Maybe I will one day. This however, is the first sweater I've knitted from the top down and the first that is knitted in one piece. If you dislike seaming, this sweater is for you. I enjoyed knitting it very much. The large amount of stockinette stitch made it the perfect knitting project to pack in my suitcase to have for knitting on the road.
The pattern was well written and easy to understand. The only thing I wondered about was that the materials list said you would need a set of size 4 double points, but nowhere in the instructions were they ever used.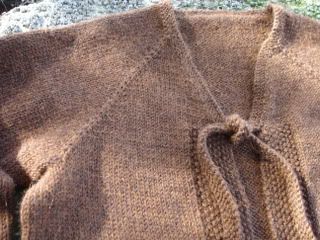 The yarn I used is well suited to this pattern and a dream to work with. Also a good buy at just under $9 for 215 yards a skein. I used almost five skeins to knit the small size which is a little less than the pattern called for. The pattern is written for six sizes from XS to XXL.
Simple design and styling makes this a sweater that's easy to knit, will go with everything and will look good on just about every body type. I'm going to be wearing this one often.