For those of you not familiar with the term
yarning
, let me explain. It simply means to shop for yarn. I'm not sure if yarn must actually be purchased, but every time I go
yarning
, I come home with a few skeins for the stash. And if John is with me, I come home with more yarn than if I go by myself. He was with me this time...
Black Sheep Wool Co.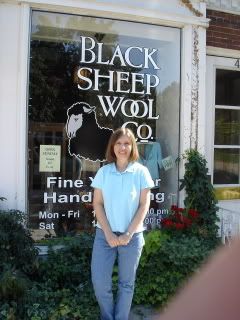 Here I am outside the store before any yarn was purchased. This shop has become a regular stop on my trips to Salt Lake City, since it is very close to where we usually stay. I believe the owners are beginning to think I live in town. I always find something good here. This time I found some lovely sock yarn I had never seen before--
Sunbeam St. Ives
(80% Wool, 20% Nylon, Machine Washable). I was told that
Nancy Bush
has been using this for her socks lately. Looks like good stuff. I had a hard time deciding on what color to buy, so I came home with several. Good thing it's reasonably priced.
The Needlepoint Joint
This shop is located in Ogden, Utah. I had never been to it before and judging from the name, I was afraid it might not have much for knitters. Boy, was I wrong! This store has everything. I was so involved in
yarning
, that I totally forgot to take pictures, which is a shame because the shop is located on Historic 25th St.--a beautiful location.
When I go
yarning
out of town, I try to buy something unusual or least something my LYS doesn't carry. I came across a brand of yarn in this store called
Cestari
. It's manufactured in Churchville, Virginia and is described on the label as
AN ALL NATURAL, VERY UNIQUE YARN
. How could I pass that up? I bought the 75% cotton, 25% wool blend in a 3 ply D.K. This yarn comes in other weights and blends including 100% wool. Other purchases included a vest pattern (probably for this yarn) and a small sock darner to add to my collection.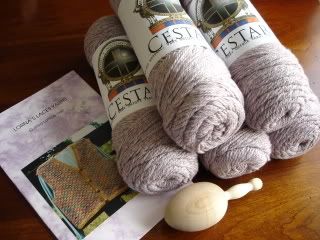 There was a display of knitted pumpkins in the back of the store. These were the best I've ever seen. Some were felted and some were not. There must have been over 20 pumpkins, no two alike. All were variations of three different patterns, which the shop gives out for free. I came home with the patterns, but I wish I had taken pictures so I could remember all the different ways they were made. Well, I guess I have an excuse to go back now...not that I needed one.