I'm heading out the door in just a little bit for a very brief trip to Salt Lake City. Before I go I want to show you two more soap socks I knitted recently.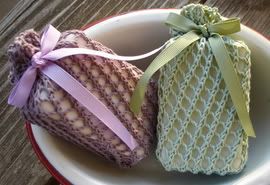 I really love making these and giving them as gifts. This pattern, Fish Net Soap Sock, is from a small collection designed by Barbara Scoville and published by
The Heirloom Knitter
in a small pamphlet style book called
Heavenly Cotton Soap Socks...and More
. It includes four patterns for soap socks and two patterns for french hand mitts. I found it at
Black Sheep Wool Co.
which is coincidentally in Salt Lake City. Hopefully I'll have time to stop by on this trip and maybe buy another book or two. I always find something interesting in this shop and it's very close to our hotel.