It was wonderful weekend in Iowa! I finally met Laura, the founder of
The Preemie Project
.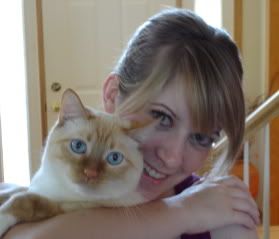 She is an amazing person. A little over a year ago, after a knee surgery that didn't go as well as planned, Laura found herself needing something to do. With limited mobility and having to cope with a lot of pain, she turned to knitting to keep her sanity. Her mom, Linda, suggested that she knit some booties for the babies at the hospital and from that simple suggestion, The Preemie Project was started. Laura began to ask others through
her knitting blog
to help her. I believe I'm correct in saying that the project has grown to over 200 volunteers. Some are national volunteers like me, but many are from the Iowa City area. Working together we are able to donate a large number of hats, booties, blankets and bereavement outfits to the
University of Iowa Hospitals and Cinics
every two months.
All of the volunteers are important to the success of The Preemie Project, but the local volunteers are called upon to help in ways that those of us that live far away cannot. On Saturday and Sunday there were workdays planned to sew blankets for the babies and I was thrilled to be able to join the local volunteers in this effort.
We had an assembly line going. Linda cut out the majority of the blankets. I think this is the hardest part.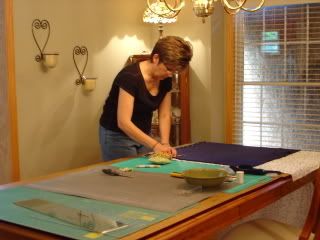 Next they were sewn. There were five sewing machines in use on Saturday and six on Sunday. I used a machine that was donated and though old, it sewed beautifully.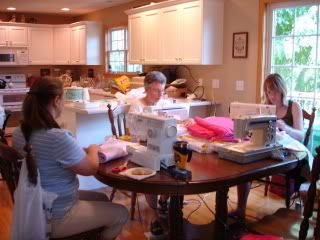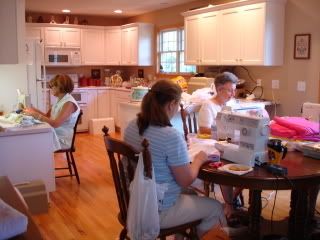 Other volunteers turned the blankets, trimmed and pressed the seams to get them ready to be top stitched.
Here's a picture of the group that was there on Sunday.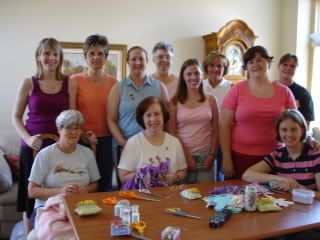 I had so much fun getting to know everyone. The way things were organized, I got to spend the most time with those in the sewing room. I met Darlene and discovered that she spends time each winter in a little town only 1 1/2 hours from my house. Small world. I learned that Carla can sew us under the table. She worked for hours without ever taking a break. Jane will probably have a new sewing machine by the end of the week. Hers was acting up and besides she needs one with fancy stitches for top stitching. It's for the babies afterall. Laura was sewing too and we spent a lot of time discussing The Preemie Project. She has great ideas and the will to make them happen.
I wish I could have spent more time with everyone working in the other room. Some were friends I know through blogging.
Heather, Me and Megan
(I also met
Libby
and we took a picture together too, but it's on Laura's camera.)
It was great to meet each volunteer and so much fun to work together. My visit was way too short. I hope I get to go back another day.
At the end of two days of sewing, we had 96 finished blankets! Most of these are the large size. It truly was a wonderful weekend.
Laura, Linda and me
Added later:
Must have missed one blanket in the first count. The total blankets sewn this weekend was actually 97.