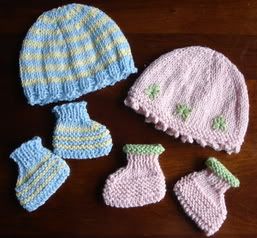 Two sets for
The Preemie Project
for babies 6-8 pounds. Both hat patterns are from the book
Natural Knits for Babies and Moms
by Louisa Harding. I bought the last copy of this book at my
LYS
. The owner said it sold out quickly. No wonder. The patterns in it are adorable and simple enough for a beginner. It includes several baby sweaters, a blanket, these hats, booties and even a pattern for a maternity sweater and a nursing sweater. The baby items would all make nice gifts. I want to make each one.
The booties I made for the hats are a variation of
my favorite pattern
. I use this pattern all the time, because it knits up very fast and is so versatile. I've tried others that I like, but this is still the best.
The yarn I used is another favorite of mine--Little Lehigh by Kramer Yarns (45% cotton, 35% acrylic). It's very lightweight for a cotton yarn and it's machine washable and dryable. Perfect for baby items.
Needles used for both hats were US 5 and US 7 straights. It would be easy to knit the hats in the round if that is your preference.