This week I'm knitting socks. I haven't knit a pair of socks since before I started this blog, so I thought I would show you a picture of the first pair I ever knitted.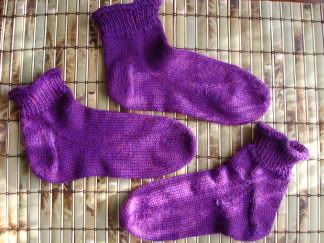 No, I don't have three feet. It just took three socks to get one decent pair. I had been knitting for a year and it was my first attempt at using double point needles. I bought a set of Boye aluminum double points and some yarn I found in the clearance bin. I wasn't sure I could figure it out, so I wasn't willing to spend much money on the project. I'm funny like that. The first attempt with double points was a disaster. I couldn't figure out how to handle all the needles and the yarn was very slippery on the aluminum. If you are a beginner with double points, please invest in a wooden or bamboo set, it's much easier to learn on. I set everything aside for a month, then tried it again. One of the hardest things was getting started. Finally, I figured out how to get everything joined in the round. And as you know, once you knit a few rounds the fabric holds the needles in place with no more flopping. I wish I had known about
this site
. It has excellent free video instruction for knitting a pair of socks. Anyway, things went smoother from that point on except for a dropped stitch or two, a few holes and a sock that ended up being too small. But, it looked like a sock and I was encouraged. So, I did it again, two more times and ended up with a decent pair for my "first" attempt. More later.
Hey Bluejay fans, Needville clinched a spot in the playoffs with Friday night's win over Stafford, 28-25! Thanks Sweeny for defeating Wharton!