I'm back home now. Had a good time in San Antonio. While my husband attended his scheduled meetings, I was free to do whatever I wanted, so you know what I did...I knitted. Made a few things for
The Preemie Project
including this tiny gown set for a baby weighing less than one pound.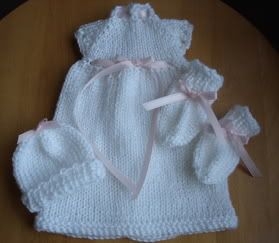 The gown measures just a little over 7" from the neck to the hem and the bodice is only 3 1/2" across the front. It was hard to know how big to make the hat. The one I made will fit on a regular size lemon. It is 4" in circumference, but can be stretched to 5". The tube socks are flat now so they look a little big in comparison. When worn I think they will fit a foot as small as 1". It is difficult to imagine a baby this tiny. It makes me sad if I think about it too much. It is my prayer that this gift will somehow bring comfort to the family that receives it.
I used three different patterns for this set. In each case I used Caron Cuddle Soft Yarn (a fingering weight I think) and size US 3 needles. Instead of the lace pattern on the gown, I substituted stockinette stitch. The hat and socks were knit in the round on dpns. Here are the links:
Gown
,
Hat
(you will find it on the pattern called Micro Bunting), and
Socks
(called Easy Socks). I shortened the length of the socks by knitting the ribbing for 3/4" and the bottom of the sock for 1 1/2".