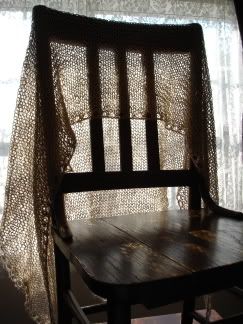 Everything about this shawl is simple. A good choice for a beginner or for anyone who just wants to knit without thinking too much about it. It's quick too as long as you don't let other projects take up your knitting time like I did.
To make one, find a yarn you really like.
I bought this in Kansas on our summer vacation. I found it at one of the
best yarn shops
I've ever been too. Next, pick a big size needle to give you a very loose gauge. I used size US 13. Cast on three stitches and knit being sure to increase every other row by making a yarn over after the first knit stitch and before the last knit stitch. This creates an eyelet edge. Continue in this way until the shawl is as big as you want. I went until I had 150 stitches on the needle. On the last row, K1, *yo, k2tog; rep until last stitch, K1. Bind off loosely. Block lightly making sure to open up the eyelet holes along the edges.
Nothing fancy. Just a very soft, light weight and surprisingly warm shawl. I think I'll be using this one a lot to keep warm while I'm at the computer checking out all the latest in blogland.