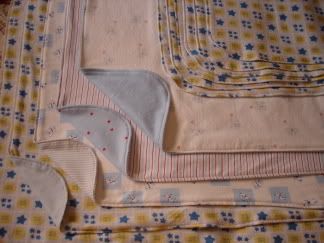 From ten yards of fabric I got six small (20"x22") blankets and two large (30"x30") blankets. I also used a package of purchased receiving blankets to make three more large ones. I found them for a good price at Tuesday Morning and originally planned to crochet an edge on them. But, I changed my mind when I started thinking of how much time that would take. I like to make blankets, but I don't want to spend a lot of time doing it.
I make my blankets the quick and easy way. First pre-wash and dry your fabric, then iron so you can measure accurately. Decide how large you want the blanket to be and cut two pieces of fabric one inch larger than the finished size. For example, if you want a 30"x 30" blanket, cut each piece of fabric 31" x 31". I've invested in a cutting mat, rotary cutter and acrylic ruler to make this step easier, but it is not necessary. Next place the two pieces of cut fabric together with right sides together. Match the edges and smooth the fabric. If you are using coordinating fabrics and you cut each piece seperately, this is where you find out how good you were at measuring and cutting. Match as closely as possible, remembering a small discrepancy won't make much difference because of the 1/2" seam allowance. I then use a rotary cutter and a template I made from a piece of cardboard to round the corners (easier for sewing). You can pin the fabric together if you want, but I find that flannel does not slip on itself, so I skip that step. Now, sew around the edges using a 1/2" for the seam allowance. Do not sew all the way around. Leave a small opening. Clip the rounded corners so the seam will lay flat when turned. Then turn the blanket right side out through the opening. Using an iron, press seams flat. Topstitch all around close to the edge. That's it. If you decide not to topstitch, be sure to sew the opening closed.
I hope that makes sense. It takes almost as long to write about it as it does to do it. Back to the sewing machine.