Today it's raining, so no natural light for pictures. That's okay though, because we need rain. I plan to spend the day washing clothes and knitting. The knitting part will be fun; the washing, a necessary chore. I finished another gown set.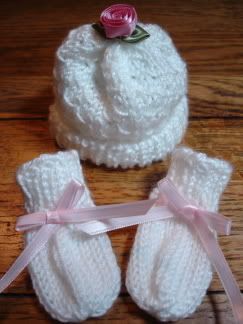 This one will fit a 1-3 lb baby. It's very feminine with it's lace skirt. The next one I make will be for a boy.
Patterns:
Spring Purple Burial Gown
Lacy Hat
Easy Socks
Yarn:
Caron Simply Soft Baby Sport
Needles:
US 3 for all items
Things I Changed:
*I added an eyelet row to the neckline of the gown to make it adjustable. Next time I may add an opening in the back of the bodice for easier dressing.
*I knit the hat in the round by changing the purls to knits. It
resulted in a hat that is more texture than lace. Still nice.
If you follow the directions and knit it on straight needles, you
will get a nice lace pattern.
*Also worked the socks in the round. This is the same pattern I
used before. I like these little tube socks with the eyelet row
and ribbon.