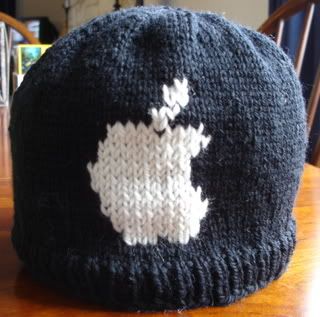 This is the Christmas gift I
began knitting in October
for my son, Matt. He is the computer geek in our family and is a big fan of Macs so I knew this design would be perfect for him. I didn't see it coming, but this hat has been one challenge after another.
It all began with an unsuccessful search for superwash wool in black and white. Matt does his own laundry now and I wanted this easy care feature to prevent accidental felting. I decided handwash wool would be fine when I couldn't find what I was looking for. After all, how many college students think to wash their hats anyway?
I knitted up a hat and promptly ripped it out. I was too short and I didn't like the gauge.
My second attempt was better. I went down a needle size. The gauge was good, the length was right, but the circumference was a little loose on my head. I was hopeful that it would fit Matt though, so I went ahead and added the duplicate stitching. It was only after I took the picture above, that I realized the apple motif didn't exactly match the chart. I let the hat sit a few days to see if I could live with it. I couldn't, so I reworked the motif.
On Christmas day, Matt opened his gift. He liked it, but yes, it was a little too big. No problem, I thought, it will shrink when washed. I threw it in the wash and watched it carefully. The hat shrunk in length and expanded in width. The circumference increased by at least two inches. Very strange.
Back to square one. Today I went shopping for more black and white wool. This time I found superwash! I'm going to take this as a sign that this next (and hopefully last) attempt will be a breeze. Wish me luck. Pattern details when I get it right.