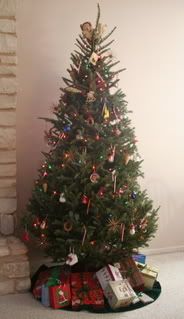 Last night we decorated the tree. Our tradition has always been to do this as a family. Getting everyone together on a night that we didn't have other things to do was a challenge this year, but it was worth waiting for. Matt's girlfriend, Barbara, was even able to be here. We shared a nice supper, trimmed the tree, then sat around enjoying our time together. Matt played his guitar and John joined in on the mandolin.
Our tree is decorated with a hodgepodge of ornaments: a felt bag filled with balsam needles sewn together by John's mother, star burst ornaments made from the spiny fruit of a sweet gum tree, a bendy Santa toy that the kids creatively hang every year, ice skates crafted from felt and paperclips, dollar store finds that look like antique ornaments and peppermint candy canes that can be picked off and eaten at any time. The oldest thing on the tree though is the angel on top. It was given to me on my first Christmas forty-six years ago. It is worn and ragged now, but holds memories of Christmases when I was just a little girl and it topped our family tree then.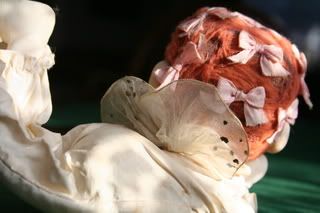 And though I didn't plan on knitting gifts for Christmas, I ended up making a few. Here is one that is safe to show.
The pattern for this set is in the book
Felted Knits
. The oven mitt is knitted from Jazz by Artful Yarns (50% alpaca, 50% wool). It's been in my stash for a couple of years. The dark blue yarn is White Buffalo. John has pronounced this oven mitt and trivet "the coolest thing you've ever made". A free pattern for a similar mitt can be found
here
(for the pdf file and picture, be sure to click the link at the top the pattern).