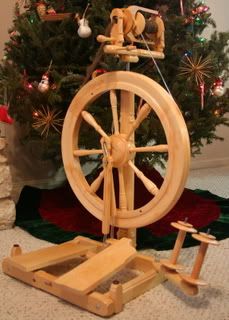 Thanks to my wonderful husband, I am now the proud owner of spinning wheel! It's
The Sonata
made by Kromski. This wheel folds down and packs away in a padded bag which makes it perfect for traveling or storage. It is constructed from European alder and birch. The double treadle, the folding feature and the beautiful turned wood details are what convinced me that this was the wheel I wanted. The price was a factor too. I thought it was reasonably priced when compared to other similar wheels.
The Woolery
had the best deal for the wheel and bag combined, offering 50% off the bag when purchased together.
I've spent all day getting to know this wheel. My first attempt at spinning was a bit awkward. In the beginning I was thinking too much--trying to duplicate the techniques I'd read about for drafting. It wasn't working well, so I decided to handle the fiber in whatever way felt natural. Things began to fall into place after that and I got the hang of how the fibers should slip by one another. Eventually my hands and brain began to work together and yarn filled the spool. I haven't taken pictures of this yarn yet so I'll try to describe it: It's single ply, natural color merino, over twisted in some places, under twisted in others, with short stretches of "hey, that's pretty good". My first instinct is to call it
ugly
, but I think
primitive
sounds better, don't you?
Learning to spin is going to be a different experience for me than learning to knit. I don't think it's going to be as easy, but with practice, patience and private instruction I'm going to figure it out and have fun in the process.