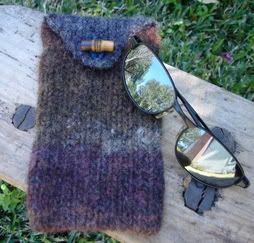 This is a project from the book,
Fabulous Felted Hand-Knits
by Jane Davis. Because it takes such a small amount of yarn, I was able to use up some leftover Noro Kureyon. I'm guessing it was about a 1/2 skein or less.
This case is constructed by knitting a strip of stockinette, working a few decreases to form the flap, sewing the side seams and then felting--quick and easy! One interesting thing I learned from this project is to use cotton crochet thread to baste down any parts that need to be stabilized during the felting process. In this instance the flap was folded down into position and basted to the front of the case. This helped to keep it from being stretched out of shape when it was in the washing machine. You might think the flap would become permanently felted to the front, but it didn't. It lifted easily when the basting thread was removed.
After everything was blocked and dry, a slit to fit the button was cut in the flap to form the buttonhole, then cotton floss was used to stitch around the opening. I may have to redo this stitching as I just realized there is a special way to do it called buttonhole stitch. I just sort of did my own thing here, so I'm not sure how well it will hold up. I'll get a chance to do it correctly soon enough though, because my husband has requested a case for his fishing sunglasses.