Thanks for all your kind comments. Your notes are encouraging to me and I appreciate everyone of you! I like to reply to your comments by email, but it's not always possible because Blogger does not require that you leave an address in order to comment. So, I especially want to acknowledge those I have not been able to contact personally. Thank you so much. --Tracy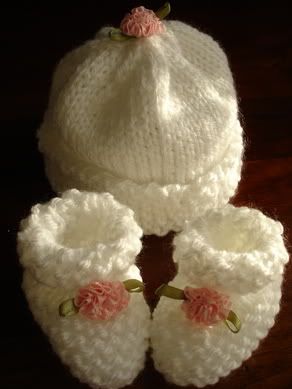 From your comments, I realize I left out some details in yesterday's post.
Libby
and
Stephanie
wanted to know more about the embellishments I used on the gown set. I did some editing yesterday to add that information. Scroll down if you missed it. Also,
Sara
wants to know what pattern I used for the booties. So, here's what I forgot to mention yesterday...
Pattern for Booties:
Michelle's Booties
Yarn:
Bernat Softee Baby (Sport D.K.)
Needles:
US5
Finished Size:
3-5 lbs
Notes and Changes:
CO 25 sts. Work garter stitch rows and decreases. Work a K1,P1 rib for five rows, then work three rows of seed stitch. Bind off in pattern. For a special touch, add a store bought ribbon flower to each little shoe.
Pattern for Hat:
Knitted Preemie Hat
Yarn:
Bernat Softee Baby (Sport D.K.)
Needles:
US5 DPN
Finished Size:
3-5 lbs (circumference = 11")
Notes and Changes:
CO 56 sts. Work seed stitch pattern for 1". Knit until 4" from CO edge. Work decreases. Pull yarn through remaining stitches and secure. Top with a ribbon flower. Turn up edge to form cuff.