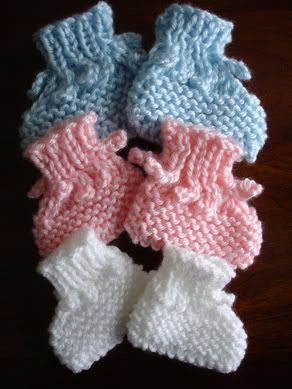 I found that a row of "nubbles", as described in the pattern for the Cupcake Hat, makes a nice embellishment to my favorite booties.
Pattern:
Michelle's Booties
Size:
1-3lbs (3-5lbs, 6-8lbs)
Yarn:
Sport D.K. (WW, WW)
Needle Size:
US2 (US5, US7)
CO:
25 (25, 25)
(See
Cupcake Hat
pattern for how to Make Nubble)
What I Did:
Work garter stitch rows.
Work decreases.
Add a row of nubbles after the decreases, making a nubble every other stitch.
Work four rows of K1, P1 ribbing.
Bind off loosely and sew seams.
Note for ribbing:
When I came to a stitch that contained a nubble, I purled on the wrong side and knit on the right side.
Now it's time to sew blankets for
The Preemie Project
. I spent several hours yesterday cutting out flannel. Today I expect to keep the sewing machine humming all day.