It's a challenge to get outside for a trek in our part of Texas during the summer, because it is usually very hot and humid. Tuesday we were surprised by a break in the heat and actually found a little time to take the bikes to
Brazos Bend State Park
for ride after supper. The
Trek-along
socks came too.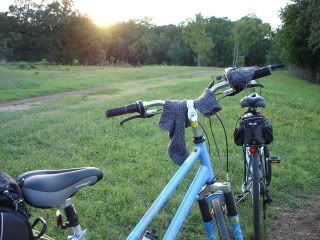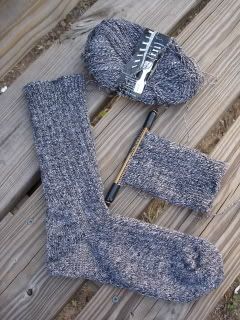 Trekking (XXL) Color 115
This is my first attempt at short row heels and short row toes. I'm using the Priscilla A. Gibson-Roberts method. She claims that this technique
allows you to knit plain socks mindlessly (even when brain-dead)
. I had my doubts about that, but now I'm convinced! As soon as I'm finished with these I'm trying short rows on a pair for me.
We biked the 40 Acre Lake Trail and then the Elm Lake Loop Trail. These are two of the most popular trails in the park. These trails see a lot of traffic on the weekends, but were nearly empty this time of the week. Alligators are a common sight here. We saw several, but didn't stop to take pictures. Next time, I promise. The goal was to get some exercise and I didn't want to keep stopping.
Brazos Bend is only a short drive from our house, but the scenery is completely different. Where we live is open farm land, but the park is a mix of woods with huge mature oaks, swamps and lakes. Wildlife is abundant and birds are plentiful. And this day, the sky was beautiful!