Today the
Preemie Project Contest
comes to an end. Thank you to everyone that participated. You guys have really been busy! I'm happy to say that in only one month's time, the total number of hat/bootie sets donated through this contest were 123 (71 sets were sent to Michigan and 52 sets were sent to Iowa) and the total number of blanket squares made were 142. I appreciate all of you so much. Because of your generousity, 123 families will be helped during a very difficult time.
Now it's time to announce the contest winners. The winners were chosen in the traditional low tech way of drawing a name from the hat, or more precisely, a Ziploc bag.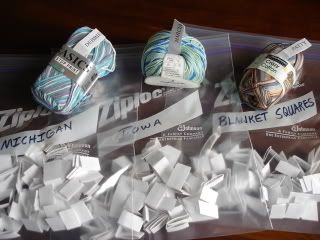 Winning 10 skeins of Basics Stop Print in the Michigan drawing is
Debbie
.
Winning 10 skeins of Cotton-Plus in the Iowa drawing is
Marcia
.
Winning 10 skeins of Crazy Cotton in the Blanket Squares drawing is Patty.
Congratulations, ladies! I'll mail your prizes just as soon as I receive your mailing address.
I hope everyone enjoyed working for the little babies. For me, there is joy in doing good for others. I hope you experienced this too. Your contribution is important and makes a difference. For a little inspiration and encouragement, listen (or read the words) to this home recording of the song,
Little Babies
, written and sung by my husband.