It measures 20.5 inches tall by 25 inches wide when set up like this.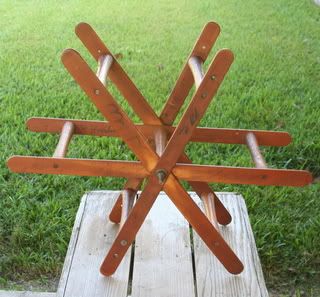 My neighbor bought it at an antique store several years ago. It was labeled "yarn winder". Her intention was to use it to display towels on, but it ended up forgotten in her garage. She came across it the other day and gave it to me because she knows I like to knit.
At first glance it does appear that it could be a yarn winder, but the design is wrong. Even if it was mounted on a base, there is no way to slip the yarn off after it is wound.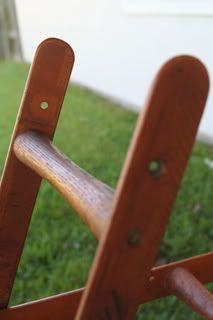 There are some empty holes in a few of the "spokes" and by the looks of it, something used to be attached there.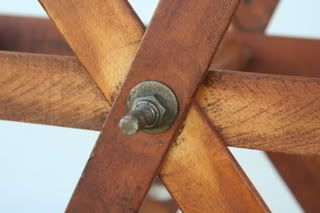 The way the pieces are joined makes the thing somewhat collapsible. You can tell it has been stored in a different position than it is now.
I have no idea what the true purpose of this object is, but I'm hoping someone can help me figure it out or guide me to a source that will know.
The only thing I feel certain about is that it once belonged to R. Hartman.
And now it belongs to me.