Now that I own a beautiful
Greensleeves
spindle, I want to learn how to use it. I've read the book
Spinning in the Old Way
by Priscilla A. Gibson-Roberts. She clearly explains the process of high-whorling. She makes it sound so simple. Surely this is something I can do.
I felt motivated the other day to give it a try. So out came the spindle, the book and a bit of newly purchased Lincoln Longwool roving. I was all excited to figure this out...to learn something new...until...I began to fumble with the spindle and roving. My motivation quickly faded and I only managed to spin a couple of yards of yarn.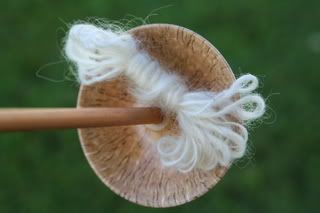 I guess my heart wasn't into learning something new like I thought. What I really desired to do was just spin yarn. When I realized this, I abandoned the spindle for the wheel and got to work on some Fine Brown Shetland roving. Now this was
easy spinning
: relaxing and fun. I spun up a couple of bobbins that afternoon.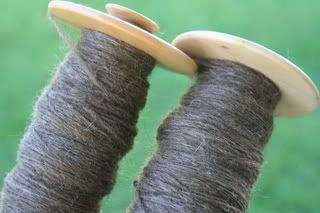 And the next day I plied both together. Two-ply
easy spun
yarn straight off the niddy-noddy. I'll soak it and set the twist when I finish up the rest of the roving.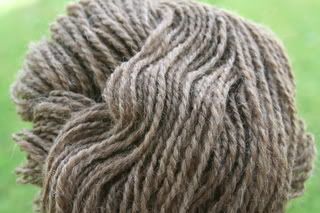 As for learning how to use a handspindle, I think I'll have to make sure my next attempt happens when I'm away from home and there is no wheel in sight to tempt me to give up.