John and I had a great time on Saturday starting with the
Great Basin Fiber Arts Fair
. After a couple of wrong turns we found our way to
Wheeler Historic Farm
where the fair was held.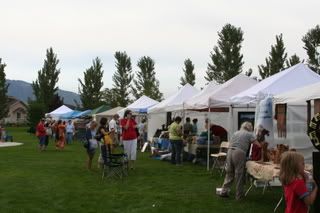 Once we got there, it didn't take me long to spot
Margene
and the gang. We joined them for introductions and a quick visit. I was really excited to meet
Kim
for the first time. We've been friends through our blogs for a couple of years. She greeted me with a welcoming hug and we talked for a bit. Next time I hope our visit will be longer.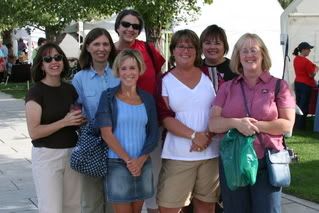 Back row, left to right:
Susan
, me,
Margene
, Judy
Front row, left to right:
Teresa
,
Carole
,
Kim
I hope I have all the names right. Someone correct me if I'm wrong. Later I also met
Kim
, but I didn't get a picture.
This was a wonderful little festival. Not a huge affair, but plenty of vendors with good things to sell.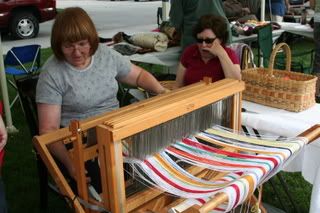 There were classes offered and demonstrations too. You couldn't miss this guy: quite colorful in dress and personality.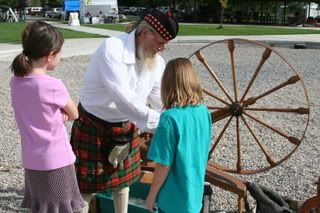 He kept the crowd entertained with demonstrations of the great wheel.
And there were a few animals too.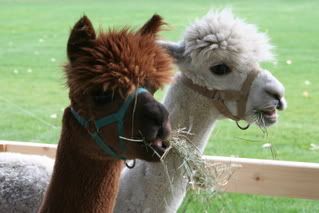 I picked up some great souvenirs.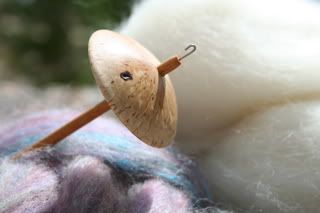 A beautiful
Greensleeves
spindle (Maureen's Mjolinor made from Masur Birch) and a couple of different rovings: Lincoln Longwool from Nelson Land and Livestock and a blend of Corriedale, Alpaca and Mohair in a purplish color from
Spinderella's
.
After saying our good-byes to the gang, we stopped by to check on the Wheeler Farm sheep.
Then we headed up to the mountains to spend the rest of the day at Mirror Lake. That's a story for next time.