Since socks are always my first choice for take-along knitting, here's proof that I've been on the go more than I've been at home lately.
Cast on in Oklahoma, knitted some in Louisiana, worked on a little bit at home (Texas) and finished in Utah. Only two weeks from start to finish. That's about as fast as it gets for me.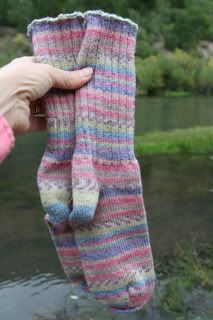 Basic Sock:
3 x 1 ribbed leg, short-row heels and toes, worked on 64 stitches
Yarn:
Online Supersocke Cotton
Color:
Beach 948
Needles:
US 1 DPNs
Sock Count:
17
This week Wool Winder is in Salt Lake City. I'm here with John and he's here for work. After work each day we've been getting out and enjoying the beautiful weather and scenery.
Fishing at Silver Lake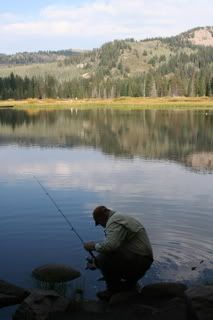 Deer in Provo Canyon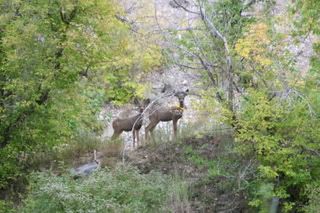 Bridal Veil Falls
And the really great thing about this trip is that it coincides with the
Great Basin Fiber Arts Fair
this weekend. You can bet I'll be there tomorrow ready to buy a souvenir or two and say hello to a couple of
blogging
buddies
. Can't wait!