After leaving the
fiber fair
, John and I drove to the mountains. We took the
Mirror Lake Scenic Byway
. Our destination was Mirror Lake, but our first stop was the Upper Provo River.
John tried his luck with the fly rod.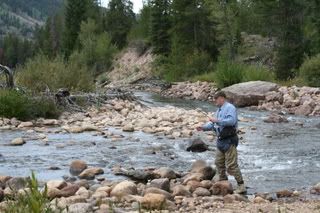 I explored the area and added another flower photo to my collection.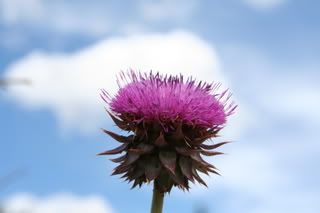 The sky was beautiful--a deep shade of blue mixed with puffy white clouds.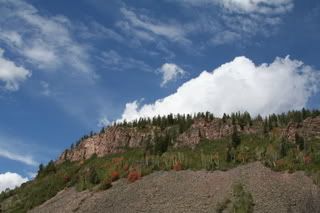 While John continued fishing upriver, I found a place to sit and knit.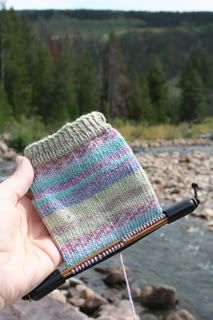 Another pair of socks is underway. Again I'm using Online Supersocke Cotton. This time it's Beach Color 946. The colors may be reminiscent of the beach, but I think they look quite at home in the mountains.
After catching a few fish and knitting a few rounds, we headed for Mirror Lake.
Definitely one of my favorite places! It's so beautiful that it's hard to capture the true feeling of it in photographs.
It takes about an hour to walk around the entire lake. At first glance it doesn't appear to be that big, but when you walk the perimeter you realize there is so much more to see. The scenery seems to change with each stop along the trail.
I kept my eyes open for wildlife. I saw chipmunks, various birds, a muskrat (I think) and a few squirrels. This guy thought I wouldn't be able to see him if he sat as still as he possibly could.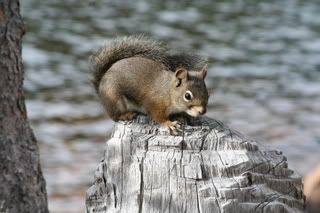 We left just before dark hoping to spot a moose on our drive down from the mountains, but no luck. We did however get held up by traffic...of a different sort.
Hundreds of sheep!
Not the type of traffic jam we're used to in Houston, that's for sure.
(Click the last two pictures for a bigger view.)