There has been a wonderful response to the
Preemie Project Contest
! I think you are going to be surprised to hear how many hats, booties and blanket squares have been donated. The number has really jumped since the last post. Check back on Thursday for the totals and winners. It will probably be later in the afternoon of that day before I post anything.
The last several days have been busy with celebrations. On Thursday Matt turned 18 and on Friday evening he graduated from high school. There is so much I could say about Matt and his acheivements, but I'll just simply say that I'm very proud of him! Robyn and James were able to be here from Arkansas. It was great to have the whole family together again. We had a wonderful but short visit. On Saturday morning we left the house at 4:00 a.m. to drive to Lafayette, Louisiana for my nephew's high school graduation which started at 9:00 a.m. We made it in time. Stayed after the graduation for a nice lunch and then returned home again the same day. Needless to say, we were all a little tired.
Things are slowing down now. Robyn and James left yesterday. We are catching up on our sleep. Knitting has resumed. I think I went almost a week without knitting a stitch--highly unusual. Enough so that John even commented on it. What I needed to get back into the swing of things was an instant gratification project, so yesterday I made the felted bowl from the book
Oneskein
which I have on loan from a friend. I used the
unspun wool yarn
(White Buffalo) that I bought on my spring break trip to Salt Lake City. I love the results.
BEFORE:
AFTER: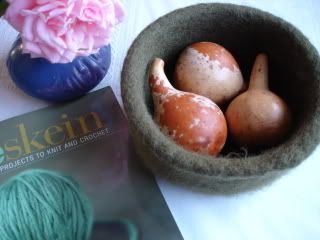 UP CLOSE:
This yarn felted so nicely, that I want to pick up some more on my next trip to Salt Lake City...just around the corner.