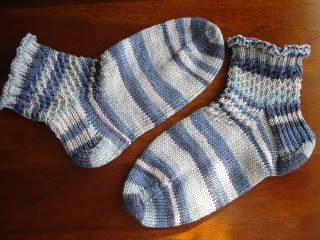 They're finished! So here are the details:
Pattern:
Sock Therapy from
THE SOCK CALENDER Socks for All Seasons


Yarn:
Two balls of Crazy Cotton (Same kind of yarn you could win in
The Preemie Project Contest
)
Needles:
US 2 DPNS
Changes:
These socks call for eyelets just below the rolled cuff in order to added a ribbon tie. I omitted this for two reasons--ribbon ties on socks are not my style and it wouldn't have gone well with the yarn I used.
What I Learned:
When you want to match stripes, plan it out before you knit the first sock. What I did was knit the first sock and then try to match the stipe pattern. I pulled almost half the yarn from the center of the second ball of yarn without reaching the correct stripe sequence. I settled for mismatched stripes instead. Later as I was knitting the foot, I realized I could have matched the stripe sequence, if I would have unwound the yarn from the outside of the ball instead. See how the stipes are mirror images? I assumed the factory would have wound the balls the same, but I guess not.
I need to pay better attention when knitting the second sock! This is often when I make most of my mistakes. This time I somehow forgot to rearrange the stitches when it was time to knit the toe. The stitches on N1 and N3 did not equal the stitches on N2. Of course, I didn't catch it until I was almost finished. Did I rip it out and fix it? No, I just worked a couple of decreases on the bottom of the toe to even everything out and went on from there. It's a minor mistake that will never be seen and in this case doesn't affect fit or comfort. I can live with it.