When it comes to knitting hats for
The Preemie Project
, I rarely use patterns that require seaming. No reason, really. I just like that when I'm finished knitting, I'm finished with the hat. But, I wondered if I was missing out on some great patterns. I was! Here are a couple.
Both the hat and the booties are knitted flat and seamed.
Hat Pattern:
Denny's Heather Hat
(there's a sweater pattern too!)
I used sport weight yarn (Red Heart Soft Baby) and US 5 needles. Next time I may make it a little bit shorter. This hat will fit a 3-5 lb baby.
Booties Pattern:
Easy and Quick Booties
For these, I also used sport weight yarn and US 5 needles. I'm adding this pattern to my favorites list! Finally, another pattern for booties that works up quick, easy and cute. I don't know why it took me so long to try it.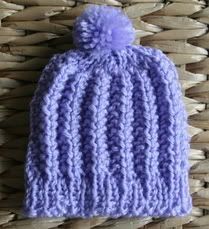 Pattern:
Denny's Broken Rib Hat
This is the hat that I tried to knit in the round and ended up with the
Preemie Spiral Hat
. This time I knitted it flat, but changed the yarn (sport weight), the needle size (US 5) and the number of stitches cast on (55sts) to get a hat that will fit a 3-5 lb baby. I decided not to turn the cuff, so I knitted the ribbing for only 1".
From now on, I'm not going to let a little seam keep me from trying a new pattern. These hats are so small that it doesn't take much time for the sewing and the seams aren't even noticeable.