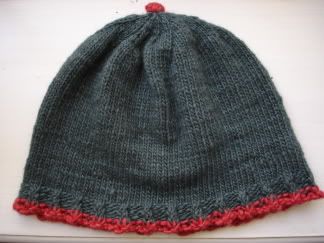 You know how some people look good in hats? Well, I don't think I'm one of them. I'll wear a hat when I'm forced too--when I'm on a hike and I need protection from the sun or when it's cold and I care more about keeping warm than how I look. I can always count on my husband to make a comment about my hat. He has a favorite saying that was a joke in his family, though I've never understood the humor in it. I think it's one of those "you had to be there" things. I used to think he was trying to tell me in a round about way that I shouldn't wear hats, but now I know it's just something he says and he really means nothing by it. So this time when he says, "Nice hat, make it yourself?", I can truthfully reply, "Yes, as a matter of fact I did."
Pattern:
Something I devised on my own, inspired by several sources.
Started:
2/27/06
Finished:
2/28/06
Yarn:
Noro Cash Iroha (slightly more than one skein of the green)
Needles:
US 3
What I Did:
CO 104 sts. and worked the same twisted rib pattern I used for
my mittens
from the book,
Sarah Dallas Knitting
. I worked this ribbing flat for 1", then joined in the round and worked stockinette stitch until hat measured 6" from CO edge. For the decreases I started with K6, K2 tog and worked my way down in the usual way, knitting even on every other round until there were 7 sts. remaining. For the topper I knitted a bobble as described in Ann Budd's book,
The Knitter's Handy Book of Patterns
.
Thoughts:
I like that this hat is small in size and close fitting. It folds up nicely and fits perfectly in my coat pocket.
Oops! I should probably fix that little piece of yarn showing through from the underside.