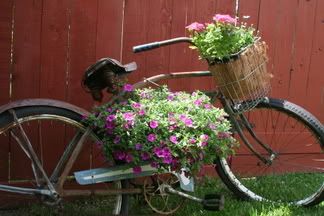 The calendar says it's Spring and so does the weather here in Needville. If that's not the case where you live, it will be soon. Hang in there. The beginning of Spring has a special significance here at Wool Windings, because it means that this blog is now one year old. It's been a fun year and some good things have happened as a result of starting this blog. One good thing is that I learned about
The Preemie Project
and became a volunteer. If you are a regular visitor here, you know that knitting for the little babies is one of the joys of my life. Another good thing is that blogging has helped me develop my computer skills to the point that I am now able to work as a teacher for the
Free Home Bible Study
program. Before I started this blog, I didn't even know how to turn the computer on. Now I am using the computer to share the gospel with people all over the world. What a difference a year makes! And last but not least, I have developed some good friendships through this blog. This is a blessing I didn't expect. Thanks for taking the time to comment and encourage me through this first year.
Scatter seeds of kindness everywhere you go;
Scatter bits of courtesy
watch them grow and grow.
Gather buds of friendship;
Keep them till full-blown;
You will find more happiness
than you have ever known.
- Amy R Raabe