Today will be a lazy day for me. The boys have gone on a guided fishing trip down the Green River and I'm left on my own. It will be a good day to do a little knitting and catch up on some blog reading. Yesterday we spent the day exploring the mountains. The morning started with sunshine and just a few clouds, but soon gave way to gray skies and snow. It was still a lovely day and we saw many beautiful sights.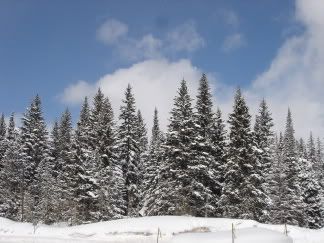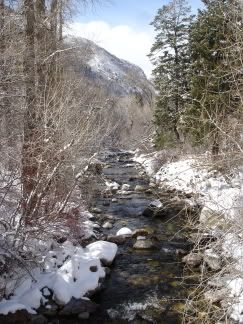 We came down from the mountain and had lunch in Sandy at
Crown Burgers
. It was our first time to eat here. They serve pastrami on their burgers! I guess it's no different than adding bacon to a burger. It was good pastrami, but I ended up taking it off. I like my burgers plain, I guess. I also tried
fry sauce
for the first time. It's similar to Thousand Island dressing without the pickles. Pretty good.
Since we were in Sandy, we stopped by a yarn shop I knew was there.
This shop also sells antiques. They carry a small selection of interesting yarns. A unique little shop. I bought some unspun yarn that should be great for felting. I've never seen this before and at only $11 dollars for a huge cake, it was a great buy.
We spent the rest of the afternoon exploring the countryside by car, ending up in Park City where we walked around the downtown area and stopped in some of the shops. All we bought was some coffee to warm us up. It snowed the whole time we were there.
As we headed back to Salt Lake City, John has us looking for moose. We finally spotted one, but it was far away. The only way we knew it was a moose and not a rock was that we could tell it had legs. I guess this counts as seeing a moose in the wild, but next time I hope to see one closer.
To end the day, we were treated to a beautiful sunset over the valley.