The Preemie Project
is expanding. Not only we will be supporting our original hospital in Iowa, but we will also start supporting two hospitals in Michigan.
Jan
is the coordinator of the
Michigan Chapter
. She and other Michigan volunteers have been knitting and crocheting up a storm to get plenty of hats and booties made in time for the first official donation in April. All national volunteers have been asked to help out too, so these two hats and the others I've made recently will be sent to Michigan.
It's been a while since I made the hat on the left. It's called
Lots of Eyelets Preemie Hat
. I followed the pattern as written except I made it a little longer. It will fit a 3-5 pound baby.
The other hat was an attempt to convert
this pattern
, which is knit flat, into one that is knit in the round. I believe I came up with something totally different. Just to be sure, I'm going to knit the pattern as written. If the one I made is different, I'll write up the instructions and publish them here later. So check back next week, if you're interested. This hat will also fit a 3-5 pound baby.
Both of these hats and the
booties
were made with my new favorite yarn, Little Lehigh by Kraemer Yarns (45% Cotton, 55% Acrylic).
Last week I received a nice surprise in the mail from
Jean
.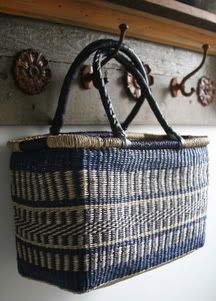 Soon after this picture was taken, I filled this basket with my current knitting projects and some pretty yarn I have in mind for future projects. I love it!