Gown Set
I decided to try another tiny gown for a boy. According to the
measurement guide
that
The Preemie Project
uses, I think it will fit a baby that weighs close to one pound. This gown is a little larger than the buntings I made the other day. The biggest difference is in the width of the skirt. It measures 7 1/2" when opened flat. The length of the bodice may be slightly longer too, but not much. I think the width of the bodice is similar to the buntings. The addition of the sleeves gives it a look I like. Sizing is the hard part when making these little gowns, but I know it will fit some precious baby and hopefully bring a blessing to a grieving family.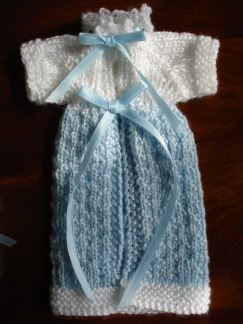 The Back
Pattern:
Extra Small Preemie Gown
by Lenore English
Yarn:
Caron Cuddle Soft (fingering weight)
Needles:
US 3
Finished Measurements:
8" from top of neck to hem, 7 1/2" wide when opened flat, 2 1/2" across the front of the bodice just above the ribbing
Changes:
Used smaller weight yarn and smaller needles.
Worked rows 1-4 of the Dot Stitch Pattern until 7" from the neckline instead of 9".
Worked 4 rows for the sleeves instead of 12 that is suggested, then followed instructions for the decreases and garter stitch border.
This pattern does not include an eyelet row under the bodice. But when it was finished, I decided it would be a good idea to have the ability to adjust the width in this area, so I improvised and wove a ribbon through the stitches. You might want to add an eyelet row instead.
Close-up of the Improvised Eyelet Row
Hat:
Used the same yarn and needle size and
this pattern
(Itty-Bitty Hat), but cast on 48 stitches.

Socks:
Used the same yarn and needle size and
this pattern
(Easy Socks). Worked the ribbing for 3/4", added the eyelet row, worked stockinette stitch for 1 1/2" from cast on edge, and then decreased and finished as instructed. I knitted these in the round on dpns, but the pattern is written for straight needles.