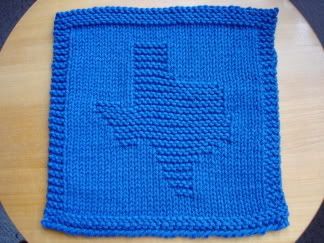 This square is on it way to
Christine
for a blanket she will make for her brother
Jef
and his wife. It will be joined together with other knitted 8" x 8" squares in many shades of blue, all kinds of yarn and various stitch patterns. No doubt some of the squares will be intricate in design while others will be simple. Some will be knitted by experienced hands and some will be first attempts by beginners. Together this hodgepodge of designs will become a blanket of comfort--a way to say that we know that what you are experiencing is exceedingly difficult and we care. One thing I know for sure, this blanket will be beautiful! How can it not be with all the love behind it!
Pattern:
Knitted Texas Cloth
Yarn:
Lion Brand Cotton-Ease
Needles:
US 5
Thoughts:
I chose this square for Jef's blanket because it represents my home, a place of comfort to me.