It's about time I got back to spinning. On Friday I watched
Spinning Wool--Basics & Beyond
, an instructional video by Patsy Zawistoski. Then on Saturday afternoon, I spent several hours with Virginia Kromski (my wheel) practicing some of the things I learned from the video. I can see improvement already. Once I got started, it was hard to stop. My goal was to spin up two bobbins worth of yarn, so that I could attempt plying for the first time. I think that was a little ambitious for one sitting, because I got tired before I finished and my spinning became sloppy. I made myself stop and will finish later this week. The roving I'm working with is Medium Coopworth.
I had so much fun spinning on my wheel that as soon as I finished, I pulled out John's green socks and got busy knitting. After all, he was the one that bought the wheel for me and he deserves to have his socks finished before the weather warms up. I think he'll be wearing them by the end of the week.
Later I went to get the mail and was treated to another gift from my husband.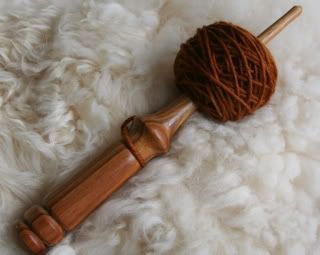 It's a hand turned nostepinde by Thomas Smith of Milledgeville, Georgia. Recently I received an email from Mr. Smith thanking me for purchasing one of his nostepindes. You may remember that I bought one at a yarn shop in Georgia in October and
posted
a picture of it. It seems one of his friends in Australia came across my blog and let him know about it. It really is a small world, isn't it?
Mr. Smith has recently started a
blog of his own
that features some of his work. The nostepindes that he makes are similar in style, but no two are alike. My "one of a kind" treasure is made from canary wood from Panama which is often used for ship components, veneer and flooring. It is beautiful! The best work I've seen anywhere.
Click
here
to learn how to use these low tech "wool winders". And, if you want to order a nostepinde from Mr. Smith, leave a comment on
his blog
or email me and I'll send you his contact information.