There are a couple of unfinished projects in my knitting bag that I want to complete before I start anything new. I began knitting both of these last spring and for no particular reason, they were set aside and forgotten.
First up is the Harvey Kimono from Natural Knits.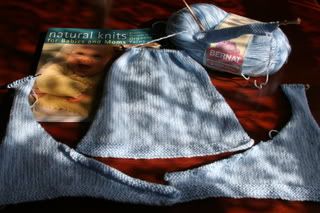 I had completed the back and one side of this cute wrap-around sweater before it was abandoned. Yesterday I decided to pick up where I left off. I learned the hard way that it pays to keep notes on all knitting, even the projects you think you will finish up quickly. I
thought
I remembered the needles I started this sweater with and the size I was knitting. I discoverd I was wrong on both counts. So I knit most of the day, but made little progress. Lesson learned.
The second unfinished knit is a very nice reversible cabled-rib scarf called
Steam
. I think I kept better notes on this one. I'll find out soon enough.
In case you're wondering, I finished Matt's Mac Hat. Pictures will be up soon.