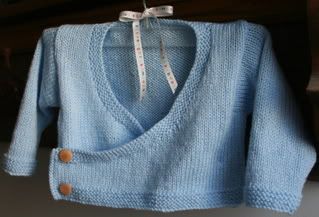 Pattern Book:
Natural Knits for Babies and Moms
Yarn:
Bernat Softee Baby
Needles:
U.S. sizes 4 and 5 straight
Size:
6 months
This sweater comes in two versions. This is the boy's version. The girl's version has a very pretty picot edge.
This cute little sweater is knitted in five pieces: two fronts, one back and two sleeves. That means, of course, that there is some seaming to do.
Stitches are picked up along the neck opening to knit the garter stitch trim. I blindly followed the pattern and picked up the number of stitches instructed. Even as I was in the process of doing this, I knew I needed to pick up more stitches for a nicer join, but I didn't. I plowed ahead and when I was finished, I didn't have the heart to rip it out and start over. I filled in the holes as best as possible.
I would love to make this sweater in a natural fiber yarn. Does that mean I'm becoming a yarn snob? I think it might.