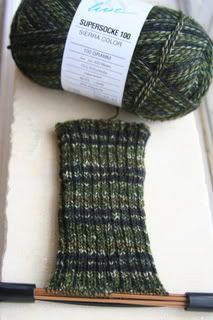 The
Green Sock Knitalong
is very informal--no sign ups, no start date, no finish date--just knit a pair of green socks. This is the pair I'm working on. They are for John. He selected the yarn himself (Online superwash wool).
I rarely get in a hurry when I knit socks. I think of socks as my back-up knitting: something to work on when I need a break from my current project. Because of that, it can take me months to complete a pair. This pair was started on December 13, 2006 and measures only 5 1/2 inches. I think it's time to focus on getting them finished.
Kim
asked this question recently:
Do you think a new knitter could handle socks? Green is my favorite color, but socks and all those sock needles scare me.
What do you sock knitters out there think? How long had you been knitting before you attempted to knit your first pair of socks?
I think I had been knitting almost a year before I gave it a try, but I'm the cautious type. Like most first time sock knitters, I found double pointed needles extremely awkward to manage at first. In fact, my first attempt was unsuccessful. I couldn't quite understand how to join my stitches in the round, but I didn't know about these helpful
videos
. I set sock knitting aside for a time and began knitting hats in the round on circulars. Because it is necessary to switch to double points when doing the decreases, this helped me get the feel of managing four needles at once. The next attempt at socks was a success.
Many people find knitting socks on two circular needles a good alternative to knitting with double points. Check out this
tutorial
. There is some good advice
here
too.
If you really want to knit socks, then give it a try. It's the only way to learn.