This time I got it right.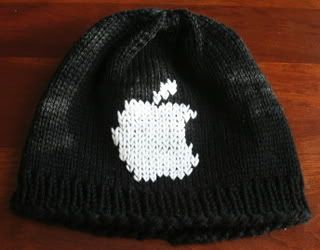 Hat Pattern: Any basic stockinette hat
Apple Chart:
Tech Guy Socks
Yarn: Mission Falls 1824 Wool 100% merino superwash
Needles: 16" circular US 6 and double points in same size
Here's what I did to get the right fit for Matt:
Cast on 88 stitches.
Worked 1x1 ribbing for 1 1/4".
Knitted stockinette stitch for 6" from cast on edge.
Began decreases with K6, K2tog (worked alternate rounds even).
The apple is duplicate stitched on the hat using Cotton Ease. It takes up a good portion of the hat, so check the
chart
for the exact number of stitches needed to be sure your hat is large enough to accommodate the design. Use DK weight yarn or sock yarn to knit the hat if you want the design to be smaller and more discreet.