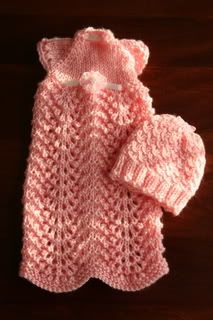 This bereavement set is for the
Emmazing Grace Foundation
.
Candy
started this foundation as a way to honor the memory of her daughter Emma Grace. Through this foundation, families that experience the tragedy of the loss of a child are assisted financially to help ease the burden of burial costs. Bereavement clothing is also provided to hospitals and funeral homes.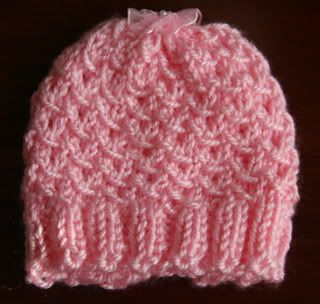 Some people find it too emotionally difficult to make bereavement clothing for the little ones. For some reason, this is something I can do. I think it's because I have heard the stories of so many who have lost preemies and the challenge they experienced when trying to find clothing to fit their baby. Candy shared why she makes bereavement clothing in her
January 9, 2007
post (scroll down the page). Her story inspires me to help others.
Patterns:
Jenny's Tiny Knitted Burial Gown
and
Lacy Hat
Yarn:
Caron Simply Soft Baby Sport
Needles:
US 5
Size:
1-3 lbs
The way the gown pattern is written is confusing in places to me, but it can be figured out. Just be sure to increase the stitches to 72 before beginning the skirt. The stitches will be arranged on the needles as follows:
10 stitches, stitch marker (SM), 16 stitches, SM, 20 stitches, SM, 16 stitches, SM, 10 stitches

Before I send this off, I'll knit a pair of booties to go with it. I will probably use
this pattern
.