Ribbon Lace Washcloth and Soap Sack
I've now knitted all three washcloths from this pattern. I think this one is my favorite.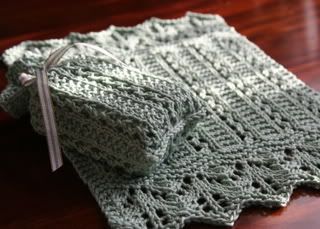 Pattern:
Fiber Trends Bathing Beauties
Yarn: Baby Georgia 100% Mercerized Cotton
Needles: US 4
Lavender Filled Sachets
These little sacks are quick knits. Instead of using them for soap, I filled a cloth bag with lavender and tucked it inside.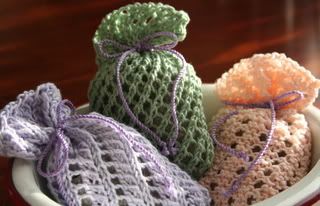 Right to Left: Lacy Soap Sock, Fish Net Soap Sock, Honey Comb Soap Sock
Patterns:
Heavenly Cotton Soap Socks
Yarn: Stork 100% cotton (lavender), Baby Georgia 100% Mercerized Cotton (green and pink)
Needles: US 4 dpns
UFO Report
I'm still working on the baby sweater and scarf from the
post
last week. The sweater is finished except the seaming. The scarf has grown to fourteen inches.