If you're looking for leprechauns today and are in the Salt Lake City area, try here.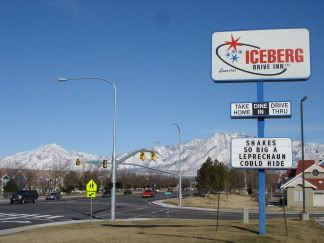 This is a great place to get a milkshake, but don't expect to drink it through a straw. You'll need a spoon. It's very thick--the consistency of soft serve ice cream. I really wonder if they add any milk to it all? And, they're huge! Bring an appetite or a friend to share it with.
We're back in Texas now. Got off the plane yesterday to be greeted by temperatures in the 80's and that familiar feeling of humidity. Time to pack away the sweaters, hats and mittens and bring out the shorts.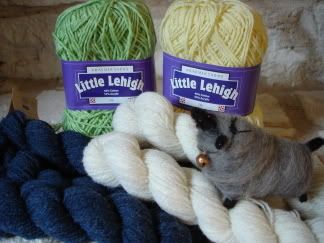 On our last day in SLC, I visited two more yarn shops. The first was
Black Sheep Wool Co.
where I found the greatest yarn for making hats for
The Preemie Project
. It's called
Little Lehigh
(Kraemer Yarns) and is a DK weight--45% cotton, 55% acrylic. It was a new yarn to this store and new to me. I also bought a cute gray wool sheep to add to my collection. It's made by Anne Carroll of Park City.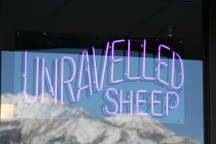 The next stop was
Unraveled Sheep
in Sandy. I bought some Jamison's Shetland Wool there. They had a large selection of colors to choose from. I don't think any of the shops in Houston carry this. So if I get hooked on it, I'll order some more from here. They said they would be glad to help with color selection over the phone. I think this is better than choosing the colors from a computer monitor. I plan to use the blue and off white I bought for a color stranded hat.
I received excellent help in both shops and give both a big thumbs up!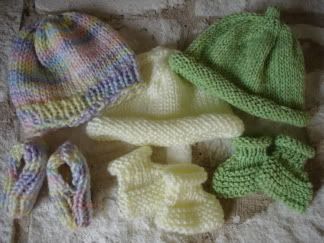 This is the knitting I did while on vacation (for
The Preemie Project
). The hats are all variations of
this pattern
. I tried this
slipper pattern
for the first time. It's okay, but
this pattern
for booties still cannot be beat. The variegated set and the off white set are both made from Caron Simply Soft. I found that the variegated yarn is not as soft as the solid colors. I don't know why that is. The green set is made from the
Little Lehigh
yarn. I can't emphasize how much I love this yarn! I would even make something for myself from it. It's a joy to knit with and is very soft and light weight.
A couple of final shots of my family and the mountains of Utah. This one is of me and my husband, John. We are both wearing scarves I knitted (a little hard to see).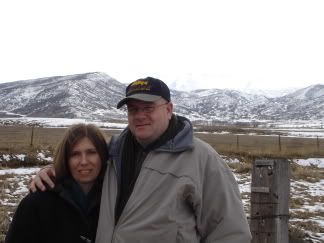 Here is my son, Matt, wearing a hat knitted by my daughter, Robyn. She will be glad to hear he wore it the whole time we were there.