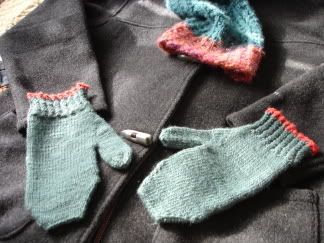 So now you know what I was knitting--not socks, but mittens. Believe it or not, these are the first mittens I have ever owned. It's not very often that you need to wear mittens or gloves down here in Texas, but I'm ready just in case. I hear there is a cold front heading our way in a few days...
Pattern:
Mittens from
Sarah Dallas Knitting
(page 56)
Yarn:
Noro Cash Irona (40% Silk, 30% Lamb's Wool, 20% Cashmere, 10% Nylon)
Colors:
2 skeins of #94 (green) and a small amount of #91 (rose)
Needles:
US 2
Comments:
These mittens are knitted flat and then seamed. I originally thought I would prefer mittens knitted in the round, but I really liked this pattern.
Since I substituted Noro Cash Irona for Rowan Wool Cotton, I had to go down a needle size to get gauge. It was hard to knit this yarn on such tiny needles, but I like the results. The stitches are tight and I think this will make for a warmer mitten.
If you have used this yarn before, you know that the thickness varies randomly throughout the skein from thin to thick. On the first skein, the changes seemed to come at short intervals. On the second skein they came at longer intervals. This meant that some rows in the second mitten were knitted with all thin yarn or all thick yarn, but not mixed as in the first mitten. It had a slight effect on the guage and I had to knit four extra rows to get the second mitten to match the length of the first. So, be cautious when using this yarn for small projects that need to match. Be sure to measure your pieces and don't just expect that knitting the same number of rows will give you a matched pair. I don't think it would matter as much on larger knitted pieces.
Even after that word of caution, I would definitely use this yarn again. After a soak in Eucalan these mittens are just as soft as can be. Can you see how well they go with the
scarf
I made last year? Now all I need is a matching hat.