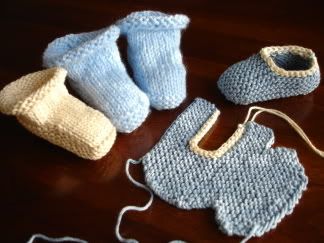 These are the booties I told you about (in various stages of completion). The next baby shower will be for a boy, so I pulled out some blue yarn and a neutral color and tried out a couple of patterns. I left the slipper unsewn so you could see the construction. I think it is fairly typical for shoes of this style. There are no stitches to pick up, but more seaming to do than the other style. It's hit or miss for me when I have to seam the toe, because as you can see, the upper is squared off and bottom is pointed. You have to ease the excess material around the toe and sew into position. I've been known to rip out the seam several times to get it to look right. This one went together easily the first time.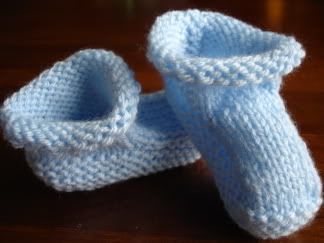 The pattern for these can be found in
Simple Knits for Cherished Babies
by Erika Knight (page 34). They are knitted from the cuff down and stitches are picked up along the sides and front to form the toe. When you are finished knitting, all you have to do is seam along the back and center of the sole. I made these with Bernat Softee Baby and size US 5, casting on 29 stitches. The sole measures about 3 1/2". It is for a baby 0-3 months. Acrylic yarn is easy care for busy moms and that's the main advantage to using it.
This one is from the same pattern. However, I knitted it with Cascade Pima Melange (100% Pima Cotton) and size US 3 needles. The sole measures 3". Hey, this one is a good size for
The Preemie Project
! Natural fibers knit up so much nicer than acrylic, although some must be handwashed and dried flat. Usually cotton can be machine washed and dried, which I hope is the case here. I just checked and there are no care instructions on the yarn band. I'll have to test it or recommend handwashing just in case.
This one is my favorite. It's from the book
50 Bootees to Knit
by Zoe Mellor (page 96). It's also knitted with Cascade Pima Melange and size US 3 needles. I like the definition the cotton yarn gives the garter stitches. The sole measures 3 1/2" which should fit a 0-3 month old baby. The colors are right for a boy, but the style may be better suited to a girl. Anyway, that was my thought when I finished knitting it. My husband basically said the same thing when he saw it. Maybe it's the lack of a cuff? Let me know what you think. I'm sure this slipper will never stay on. One little kick and it's off, but it sure is cute!