The Preemie Project
helps to support the Touching Hearts Program of The University of Iowa Hospital and Clinics in Iowa City, Iowa. We provide bereavement items such as gowns, layettes, blankets and items of remembrance for grieving families. Not all of the volunteers are able to participate in this program because of the sadness it brings them--that is understandable. Some have even experienced this kind of loss first hand and though the desire to reach out to the grieving parents is there, the personal pain is just too great. If you talk to those that have lost an infant, you will find that the kindness of receiving a beautiful gown for their little one touches their heart in a special way. That is my prayer for this little gown.
Pattern:
Little Sunshine Burial Gown
from Heavenly Angels in Need
Yarn:
Bernat Softee Baby (Sport D.K.)
Needles:
US 5
Finished Size:
3-5 lbs
Finished Measurements:
Chest = 10" circumference, Length = 14" from neck to bottom edge.
Notes:
This gown is open in the back for ease in dressing.
The pattern did not call for it, but I added a small ribbon at the neck to keep it closed.
When making the eyelet row, be sure to end with a YO. I didn't do this and ended up one stitch short. This was easily fixed by increasing one stitch.
The edges of this gown do not have a seed stitch or garter stitch border as some gowns do, therefore the edges curl. I do not see this a problem, but you do need to block the gown slightly to prevent excessive curling. I used steam.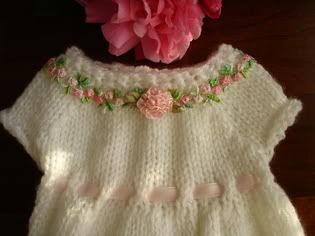 Added later:

The rose trim on this gown was purchased at Wal-Mart. It is sold by the spool. There was nothing on the package to indicate the amount of trim. It was probably about 1 yard. I think the price was less than $2.00. I found it where they sell the lace by the spool. The manufacturer is Model Crafts. It is sewn on by hand.

The small ribbon flowers were bought at Jo-Ann's. These are very inexpensive, I think something like 50 cents a package. This particular style came six to a package. The manufacturer is Offray. It is easy to hand sew these in place. I used one on the top of the hat, one on each bootie and one sewn on top of the rose trim on the front of the gown.

Using store bought embellishments is a quick and easy way to dress up a simple garmet and give it a special touch. You can find many choices in all fabric and craft centers. Options for boy's outfits are harder to find.