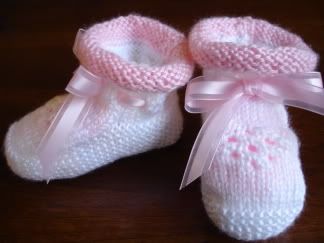 Last Friday after I mailed in my donation for
The Preemie Project
, I thought I would begin knitting something for myself, but then I remembered the baby shower I was invited to attend on Sunday, so I knitted these booties instead. They are called Daisy Lace Bootees from the book
50 Baby Bootees to Knit
by Zoe Mellor. I needed them to be big enough to fit a three month old baby, so I knitted them with Caron Cuddle Soft yarn (fingering weight) and size US 3 needles. Though they looked big to me compared to the preemie booties I make all the time, the guide on the back cover assured me they were right. I included them as part of my gift and they were appreciated.
Now I can start on something for me, right? Well I could, but on Saturday John took me to my
favorite yarn shop
so I could pick up whatever I wanted for a Valentine gift. Would you believe one of things I bought was the book
Simple Knits for Cherished Babies
by Erika Knight? I just can't stay away from the baby things! Of course, I had to try a pair of booties from this book right away. Afterall, there are two more baby showers to attend in the near future. One thing led to another and I've been knitting booties all week, trying different patterns and different yarns. Eventually, I'll cast on that second sock that's waiting for me in my knitting basket and I'll work on some other projects I have planned, but for now I'm having too much fun with this.